Teaching Data Skills to Entrepreneurs
July 2, 2020 @ 9:30 am

-

5:00 pm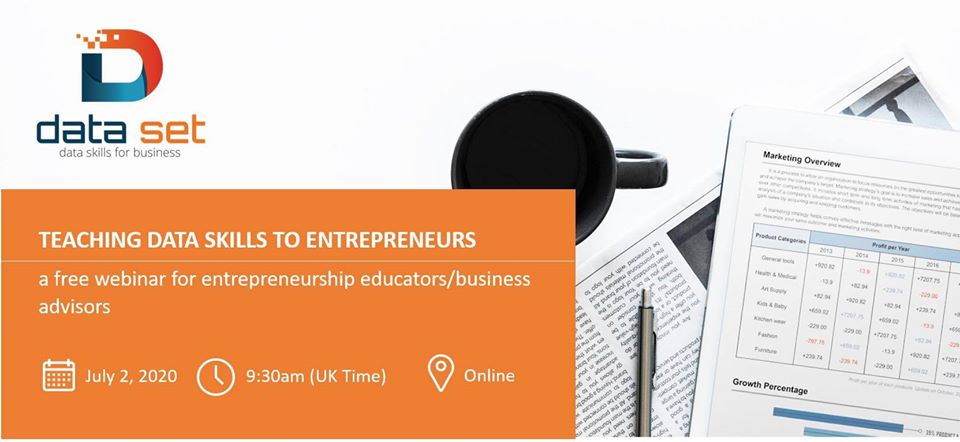 As part of its ongoing commitment to the digitalization of the economy, the EU states that "data-driven business models are the engine of Europe's growth, industrial transformation and job creation." Many businesses have been negatively impacted by the COVID-19 pandemic. Data might be the key to get back on track!
Are you an entrepreneurship educator/business advisor who is eager to contribute to the growth and help entrepreneurs unveil their potential through better data analytics?
Join us at this free webinar of the Erasmus + DataSET Project to discover and practice the course curriculum to train basic data skills for businesses.
Who should attend?
– Entrepreneurship educators at higher education and vocational education institution;
– Business advisors/trainers at incubators, accelerators, community development spaces;
– Educators who are interested in supporting start-ups and struggling businesses with the skills development.
What are the highlights?
– Introduction to the Erasmus+ DataSET project;
– Overview of the VET Guide to Data Skills Development;
– A course curriculum for basic data skills development for entrepreneurs;
– An online platform to practice the curriculum modules;
– A panel with the guest speakers, addressing the data skills development for entrepreneurs.
Stay tuned for the announcement of the Speakers!
*The event is organised by a consortium of the KA2 Erasmus+ Project "DataSET" (2018-1-UK01-KA202-048111). This project has been funded with support from the European Commission. The author is solely responsible for this publication (communication) and the Commission accepts no responsibility for any use may be made of the information contained therein. In compliance of the new GDPR framework, please note that the Partnership will only process your personal data in the sole interest and purpose of the project and without any prejudice to your rights.