Sometimes a project comes along that just brings you to another level, it's heart and soul time and you put everything you have into it. You feel a true sense of obligaton to do it justice. We have an emotional connection with food in Leitrm since Noel McPartland of Drumshanbo Community Council became our second client in 2003. For the princely sum of £2,000 we wrote the business plan and at least a dozen funding applications that went on to attract €1.8million to realise The Food Hub in Drumshanbo (warning – our fees have increased a little since!). Move forward 14 years and we were completely chuffed to win the tender to write the very first Leitrim Food Strategy.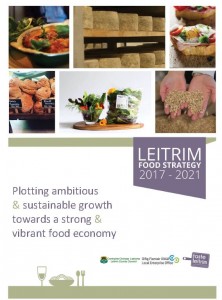 Leitrim County Council and the Local Enterprise Office could not have been more supportive,they wanted ambition and innovation and encouaged us to create an industry led document to capture the unique essence and willful ambition of Leitrim's food sector. The emphasis was to build to the county's pretty unique strengths – Leitrim has and is playing a leadership position in the areas of Food incubation infrastructure, Organics , Social farming and Slow Food. Best practice is part of our psyche.
What we found was positivity in the sector. 80% of Leitrim food producers and places to eat reported a slight increase in turnover in the last year and 1 in 3 Leitrim food businesses have plans to expand. Together, we have set ambitious targets in the creation of 250 new jobs in the sector. There are currently at least 534 full time equivalent employees in the food sector, excluding agriculture. Leitrim is somewhat unique in that, there has been no one large "Food" employer in the county since the closure of Bo Peep jam factory in Drumshanbo with the loss of 100 jobs in the 1990 (aforementined Food Hub). Rather, employment is diversified across smaller food businesses; hard working businesses connected to their communities.
Launching the strategy, Leitrim County Council, Chief Executive Frank Curran said that "the development of this strategy is a very positive one for the food community in County Leitrim, the 8 priorities identified are hugely important to build upon. Leitrim has a fantastic reputation and the capability to do great things when it comes to food, we have a natural and un-spoilt environment. The added value of the food Hub which is doing phenomenal work in terms of social enterprise, the Organic Centre as a centre of excellence in terms of organic food and training and our food tourism trails which span the county are an excellent platform to build on".
Joe Lowe, Head of Enterprise, Local Enterprise Office expressed that "this is the start of an exciting era for our amazing food community. Good things happen when we share our experiences, success, talent, and ingenuity. The strength within the food sector in county Leitrim lies within working together and supporting each other to create a bigger united impact."
There is a strong interest in the formation of a Taste Leitrim trade network to share experiences, create new connections and build collective strength. Some of the actions addressed in the strategy include the creation of a Directory & Sourcing Guide, Network Development and an Ambassador Programme. Growing exports, support innovation and putting farmers and growers to the fore are some of the 8 themes. There is a strong focus on food tourism with the target of an annual spend of 28 million euro food & drink by 2021.
Cathaoirleach of Leitrim County Council, Mary Bohan said she was "very excited to be in a position to support such a fantastic initiative to support our food businesses all over the County. Food is something that connects us all. It is a driver of employment and health and a significant part of Leitrim's economic, social, environmental and cultural identity". Ms. Bohan welcomed education as a dedicated theme in the strategy.
If you have time, please read the strategy
Big thanks for Gillian for her amazing graphic design work and Anna Marie who was deeply involved in the consultations. Orla