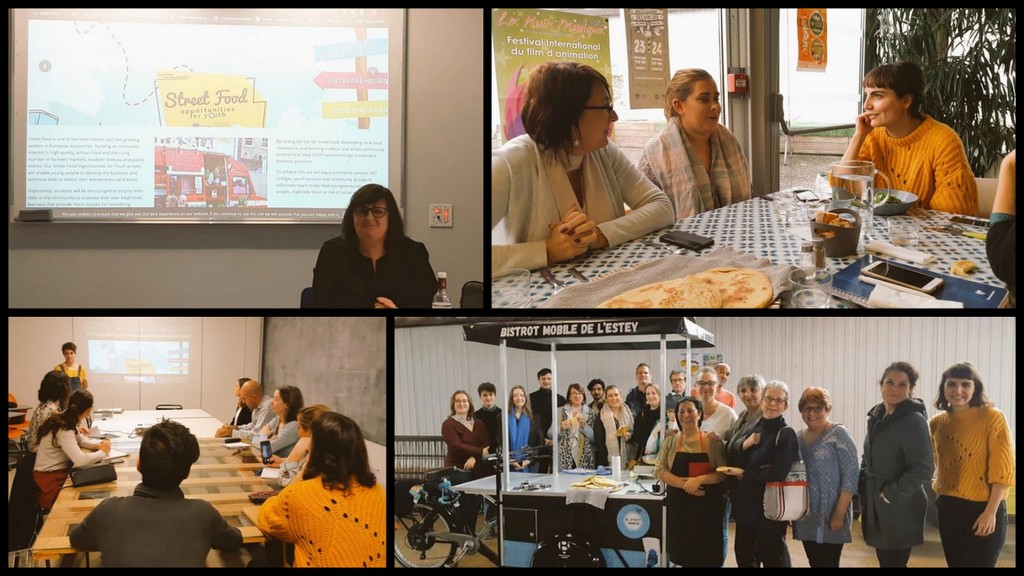 One of the Erasmus projects we have been busy working on is Street Food – Opportunities for Youth. And you know we love our food projects.
Street food is one of the most vibrant and fast-growing food movements across Europe, building on consumer interest in high quality, artisan food and the rising number of farmers' markets, outdoor festivals and public events.
On a dull Irish November day Team Momentum headed to beautiful Bordeaux for a packed itinerary of training and learning over the course of a week. We were hosted by Le Laba who made sure all the partners were very well looked after. Over the course of our visit we explored the heart of food journeying. We had the opportunity to test the learning resources developed as part of the project – available for aspiring young street food entrepreneurs – https://sfofy.eu/en/courses/start-up-in-street-food-opportunities/
We visited food truck manufacturer Mon Camion Resto and a new street food place Guinguette – La Béglaise, where we enjoyed delicious food. We also had meetings with local food truckers and food stalls and found out what motivated them.
We discovered Estey social and cultural centre, which is home to a youth social inclusion project. Their bistro is dedicated to world cuisines, inspired by street food well known to travellers. It is both a friendly place to eat, a reception area for trainees in a professional environment and a place for training in street cooking.
Orla had the opportunity to give a workshop with Masters students in the University of Bordeaux and share the work Momentum does in EU funded programmes.
We'd like to thank Le Laba for their hospitality, we are so proud of Street Food Opportunities for Youth. Our video showcase of inspiring food entrepreneurs who share the inside track on setting up their businesses – https://sfofy.eu/en/resources/video-showcase/