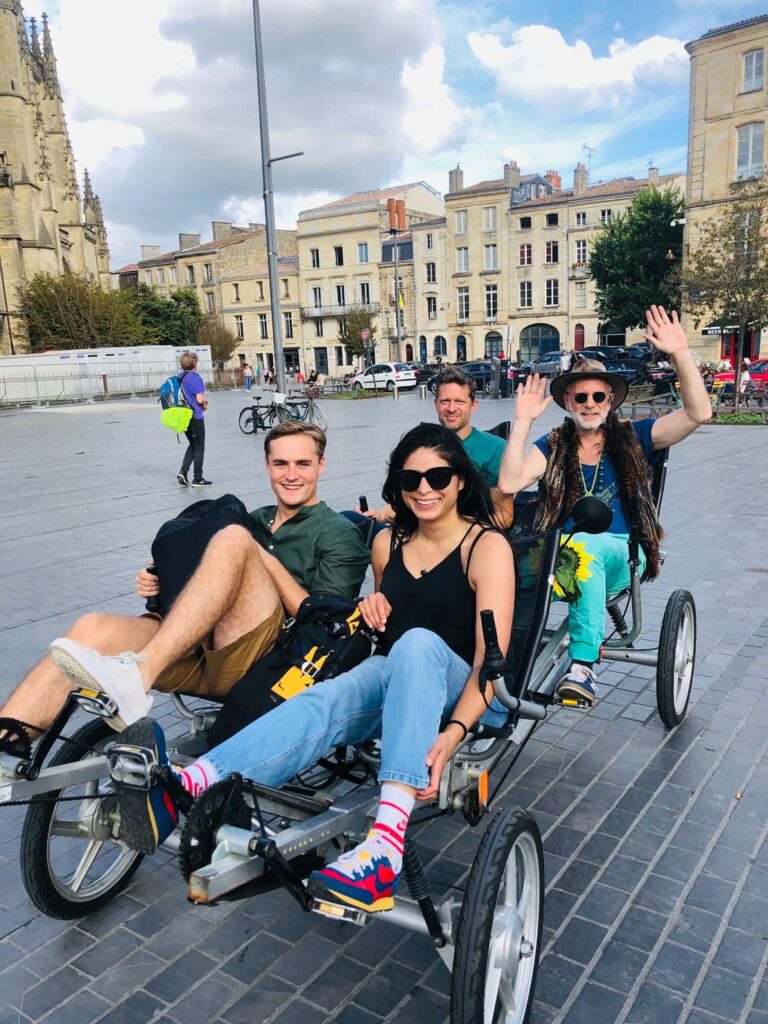 Con was recently in the beautiful city of Bordeaux in France, for the Future Festivals Tools transnational partner meeting. This project proves that meetings don't always have to take place in an office. Sometimes you have to experience the goals and aims of the project, and the team did just that on a special tour with Slowfest.
Since 2015, Slowfest has been experimenting with new, more ecological and less energy-consuming ways of creating and distributing contemporary music: concerts without amplification or on solar sound systems, artist tours by bicycle, micro-festival in energy autonomy. The collective brings together about twenty members, artists, technicians of the show and renewable energies, lovers of good sound and "low-tech". Slowfest introduced the team to their solar panel bike, which plays music as guests enjoy a "slow parade" of the city.
The partners visited DARWIN EVOLUTION. Bordeaux Tourism explains:
An unprecedented sociological experiment, Darwin and its many components are difficult to sum up, and attract as many different profiles as innovative projects. Between skaters and street art enthusiasts, green economy entrepreneurs, fans of electro music, biodiversity advocates and Sunday brunchers, everyone has a unique place.
"Darwin is a village square in Bordeaux's right bank. Coming here is like coming to the future," explains its founder, Philippe Barre. Darwin is a living place:  people work here, but also come to lunch (organic of course!), have drinks, stroll, read, discover street art…children can have fun freely and even animals are raised here. At Darwin, one can choose to consume differently. It is a rich, creative, alternative, lively, dynamic, and inspiring place.
The partners discussed the progress of the project and looked at the impact of the results with the target audience. They also met with Lauren Kharouni who told them more about the Climax Festival." The festival promises a time of stimulating reflection, celebrations with its conferences to raise awareness and inspire the desire to act, eclectic musical programming to attract a large audience, an NGO village to meet activists and its artistic performances and sports to amaze festival-goers."
Learn more about Future Festival Tools, Climax Festival, and other green festival stories here: https://lnkd.in/dTG2gGMM