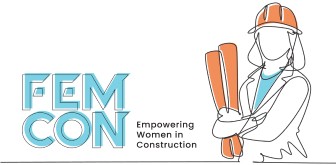 We are passionate about working on projects that empower women, so we delighted to be working on the FEMCON (Females in Construction) Eramus Plus Project.
FEMCON's mission is to create innovative vocational education and training tools to help women working in or considering a career in the construction industry advance to visible roles within the industry. The project's goal is to make the industry more appealing to women, resulting in a greater number of women choosing the sector, creating conditions for positive change, and improving the industry's gender outlook and quality of life in the male-dominated sector.
We will be working alongside project partners from Poland, Spain, Germany, Ireland, and Denmark, and we will create the following resources:
Femcon Inclusion Reach and Teach.
Femcon Curriculum.
The Femcon Women in Construction Good Practice Showcase.
Femcon Interactive Learning Digital Platform. 
We will keep you updated as the project progresses. In the meantime, we invite you to visit the website: https://femalesinconstruction.eu/