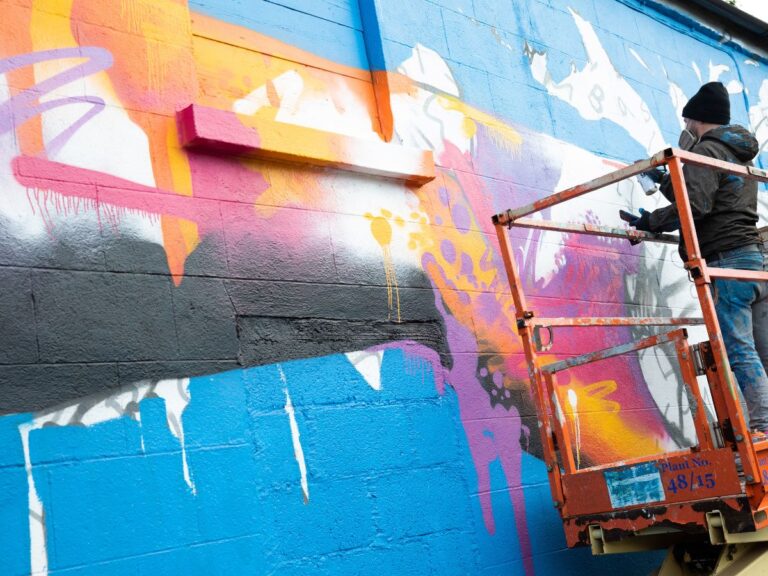 We have been featuring the work of the Ballina Fringe Festival as part of the Creative Invisibles Project. Part of the fringe festival is Pure Ballina, this is a five-year community street art project, offering opportunities for community groups, including marginalised groups, to engage with and participate in the arts, and create a visible piece of street art of special meaning to them.  You can read more about #PureBallina here: http://ballinafringefestival.ie/pure-ballina/pure-ballina-2019-friz/
The first of the street art for 2022 has been unveiled. 'The Fist Bump' by SUMS is located at Lord Edward Street, Ballina, and inspired by this year's festival theme, 'The Possibilities', represents the idea that when we come together as a community, everything is possible.
SUMS is the artist behind this incredible piece of work:
"It's a mural depicting "The Fist Bump" in all colours. As all colours are beautiful it was important for me to not make either fist a skin colour, but rather every colour of the rainbow, as I feel it is especially important in the climate of today's society to represent everyone in the diverse communities of modern Ireland."

SUMS – Ballina Fringe Festival – Pure Ballina 2022
Read the full article about the mural here: http://ballinafringefestival.ie/pure-ballina/pure-ballina-2022-sums/
You can watch our interview with Susan Heffernan, the manager of Ballina Fringe Festival to find out more:
The Creative Invisibles objective is to introduce new models of entrepreneurship training in the creative sector through actions carried out in the field of street culture, aiming to mobilise young people and NEETs deemed "invisible" within society.
Please visit the website to find out more about Creative Invisibles: https://creativeinvisibles.eu/
Thanks so much to Susan and Ballina Fringe Festival for being part of our project.
Funded by the Erasmus+ Education and Training Programme, this project brought together seven organisations; Le Rocher de Palmer, Le LABA (Laboratory of Arts Based in New Acquitaine), materahub, Backslash, Momentum, Kontrapunkt, and the European E-Learning Institute (EUEI).