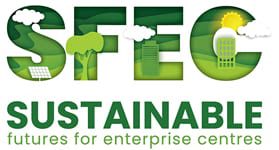 The Sustainable Futures for Enterprise Centres (SFEC) Project partners have been busy researching case studies and best practice examples of how enterprise centres and hubs along with other public buildings are implementing or have already implemented innovative, sustainable and climate change programmes reducing their carbon footprint, improving their environmental practices and future proofing the infrastructure of their buildings.
The ambition of the partners in publishing these case studies is to, educate and upskill stakeholders – including the management, teams and boards of directors, operational staff, community leaders and community enterprise centre volunteers – in the enterprise centre and hub sector right across the EU.
You can explore 50+ inspirational examples covering the following topics:
Digital Technology for Enterprise Centres
Energy & Resource Efficiency
Sustainable Eco Systems & Collective Action
Sustainable Futures for Enterprise Centres
Sustainable Infrastructure Buildings

View the Best Practice Climate Action Compendium here: https://www.enterprisecentres.eu/best-practice-climate-action-compendium/
You can also keep up to date with the latest news on Social Media:
Facebook: https://www.facebook.com/Sustainable-Futures-for-Enterprise-Centres-103026761934442
Linked In: https://www.linkedin.com/company/sfec-project/
The SFEC project is an Erasmus+ project, bringing together a range of partners from all over Europe, from the UK and Ireland to Denmark, Spain & the Netherlands.