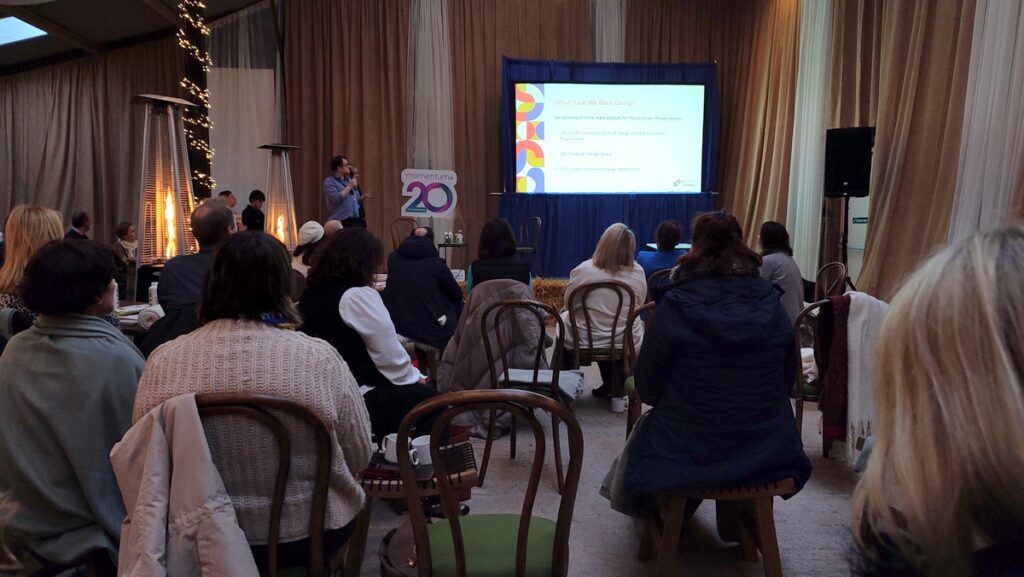 As part of Momentum's 20th Birthday celebration, we held a multiplier event for the Creative Change Project.
We presented the project to over 80 attendees, from all over Europe at the Momentum event in Leitrim, and there was a lot of interest in Creative Change and the benefits of the circular economy.
With the Creative Change project we want to respond on the enormous challenges that the COVID 19 pandemic has posed to adult educators: how to rapidly adjust service provision to respond to learners' new needs. Transnational collaboration in EU-funded projects, have long been a fast-track to improving and innovating education services. Our ability to identify new solutions and work with colleagues from other sectors can make the difference in bringing real change. To this end, Creative Change seeks to learn from the creative sector.
By fostering this exchange between project management, arts and culture, Creative Change creates an approach of sustainable and impact-oriented project management.
The Creative Change Guide is made up of four parts:
Intro:   The how and why of the Creative Change Guide
Part 1:  How Human Centered Design can make a change in your project
Part 2: Practical application of the Human Centered Design approach
Part 3: A guide on how to add value to your project
You can download your free Creative Change Guide and discover the other resources here: https://creative-change.eu/resources/
You can also join the Creative Change Space on Facebook: https://www.facebook.com/groups/487676212289547