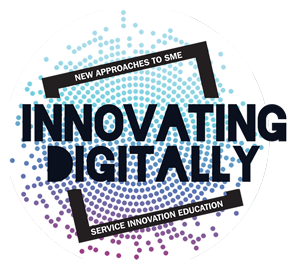 We are living in such a fast-moving world at the moment, especially when it comes to digital technology, so the Digital Innovation Project has come at just the right time. So many businesses are relying on staying connected in what has become a digital world.
So, what do we mean by Digital Innovation?
According to Enterprise Ireland Digital Innovation is about redesigning your business to serve your customers better. This means starting with a deep understanding of your customer needs and your value stream and then using new technology to improve the customer experience.
Larger businesses have their digital innovation, also known as Digitalisation or Digital Transformation, under control, but it's the smaller businesses that need help and support. Unfortunately, very few small firms are making use of this digital innovation capacity. There is a significant gap in technology adoption between SMEs and large firms and over 41% of EU companies have yet to adopt any new advanced digital technologies such as mobile apps, cloud computing, big data analytics or the internet of things. This is where the Digital Innovation Project comes into its own.
The objective of Digital Innovation is clear: to gain a better understanding of how small service companies currently undertake new product development so that we can improve how innovation in services is taught.
The first tangible results of the project will be the intellectual outputs:
IO1: The Digital Innovation Audit will consist of a 4-step approach in order to gauge the most appropriate digital tools available for new product innovation within the service sector. Consisting of a state-of-the-art review on new service development by micro businesses and SMEs, this research will be the corner stone for all of the follow outputs.
IO2:  Digital Innovation Benchmarking Tool  – an innovative, online interactive tool for SMEs to identify their current digitisation levels. This simple, yet powerful tool will help businesses to create a benchmark of where their new product development process is in terms of utilizing digital tools which are available.
IO3: Problem Based Learning Open Educational Resources which will engage a critical thinking approach to teaching Digital Innovation for service sector SMEs. Students will be encouraged to use existing resources on innovative digital skills as a starting point in choosing the applicable/appropriate tools which they will utilise in their PBL solutions.
If this is a project that is of interest to you and your business, and you'd like to know more, please visit the:
https://www.innovatingdigitally.eu/
We also invite you to join in the conversation over on the Linked In group: https://www.linkedin.com/groups/9011227/
Digital Innovation is an Erasmus Plus project we are currently working on with our project partners – University of Szczecin, Münster University of Applied Sciences, Amsterdam University of Applied Sciences and EUCEN.