Agri-food supply chains are complex and involve a large number of actors — from small-scale farmers, primary processors, and traders to product manufacturers, distributors, retailers, and consumers. The emerging blockchain technologies, which improve transparency, security, and durability of supply chains, show promise for addressing the current limitations of food supply chain management:-
Covid -19 has heightened the need for food sovereignty and the need for innovation in the agri-food sector. However, our food system today fails to meet the transparency and assurance demanded by many consumers. Over 71% of consumers around the world are willing to pay a premium for brands that provide transparent information.  Food wastage reduction is another noteworthy benefit of blockchain. According to the Food and Agriculture Organization of the United Nations, "Roughly one-third of the food produced in the world for human consumption every year – approximately 1.3 billion tonnes – gets lost or wasted".
Blockchain can assist the agricultural and food sector to deal and manage predictable dangers and maintain affordability throughout the ecosystem. However, our higher educators and those in in advisory positions to traditional sectors such as food and beverage production and processing or agriculture are already lagging behind. There is a large digital knowledge gap given the fast-paced development and applicability of emerging technologies, our education provision and a consumer led pressure for change in a post Covid economy.
The Blockchain for Agri-Food Educators project aims to tackle societal challenges in the food supply chain and drive the digital transformation of the food sector. The project's objectives include
empowering academics and lecturers from agribusiness, food science and engineering, and nutrition departments to unlock the power of blockchain for their agrifood student population while providing leadership for industry players in their regions.
lead the education of the future workforce in a responsible manner that enables them to meet job market requirements.
transform agrifood business models, productivity, competitiveness, and growth for the benefit of a broad range of stakeholders, from small-scale farmers to consumers, product manufacturers, distributors, and retailers.
There are three key deliverables:-
The Guide to Blockchain Education will recommend effective pedagogic strategies for teaching digital skills in blockchain integration in agrifood education. Its results include a research report and a guide to aid understanding of the relationship between blockchain and key agrifood challenges / opportunities.
Open Education Resources for Blockchain Education in the Agrifood sector will provide lecturers with pre-made resources for in-person or digital classes. This will help facilitate the transition to digital education in a field of study that is becoming increasingly digital. The project will produce three key results: the Blockchain Education in the Agrifood Sector Open Education Resources, the Classroom Teaching Pack, and the Online Course for Direct Study.
Dissemination and Sustainability will promote the adoption of Blockchain for Agri-food Educators among partners, peers, networks, and the wider education and agri-food sector. Its goal is to ensure the long-term sustainability and impact of the project.
So, what is the Momentum vision for this project?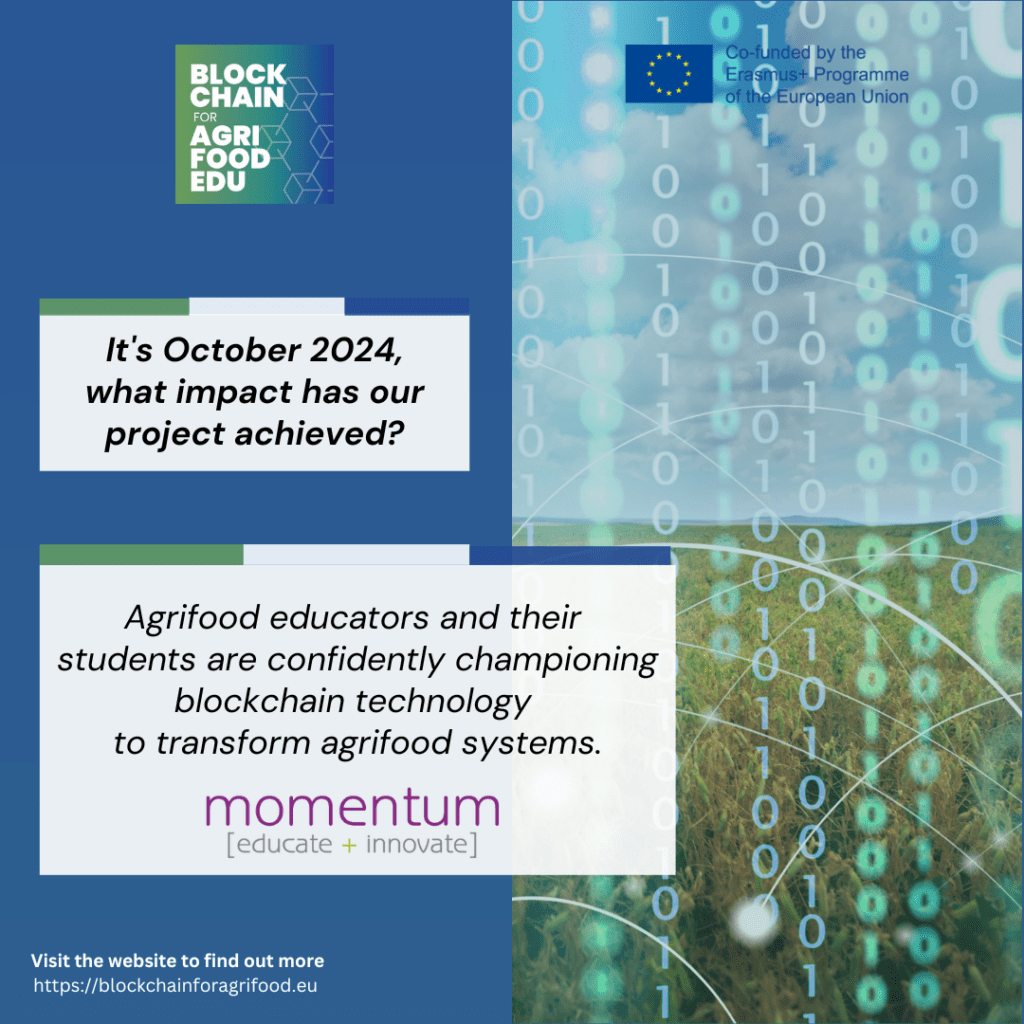 Facebook: Facebook.com/BlockchainforAgrifoodEducators
Linkedin: Linkedin.com/company/blockchain-for-agrifood-educators/
Instagram:  Instagram.com/BlockChainForAgriFoodEducators